How we're improving consistency and quality for every interviewer
Shahriar Tajbakhsh
27 Jul 2022 • 2 min read
At a time when ambitious companies must approach growth more efficiently and thoughtfully than before, getting hiring right has never been more important. Improving interviews needs to be a top priority for team builders who want to stop the slapdash hiring practices that many companies got away with in recent years. Improving individual interviews is key to running a quality-focused hiring process, especially at a time when every hire is a priority hire. But, becoming a great interviewer is a skill that's learned over time and requires regular, personalized feedback, which can be tough to scale.
We believe that a quality hiring process requires that every interviewer has access to these insights and feedback, on every interview. So, we're excited to share two world-first features we've recently launched to improve the consistency and quality of interviews at scale.
Empowering interviewers with insights to improve consistency
As a result of the hundreds of thousands of hours of interviews analyzed on our platform, we have the largest and richest corpus of interview data in the world. We've leveraged this data to unlock unprecedented ability to arm every interviewer with insights to improve quality and consistency.
Consistency Checks help interviewers understand how consistent they are when compared to their peers. To create these benchmarks, we take advantage of Metaview's unique ability to identify interview assessment questions, so interviewers can automatically know whether their level of rigor is in line with their colleagues. This feature helps interviewers make sense of consistency metrics in a contexualized, actionable way, leading to more fair evaluation and a stronger candidate experience. What makes this feature so powerful is that we've identified the set of interviews that are most relevant for comparison to surface meaningful insights, rather than arbitrary benchmarks.
Operating at the bleeding edge of Data Science, AI, and Natural Language Processing, we've also launched  suggestions for interview questions. Question Suggestions highlight a set of questions that an interviewer did not ask, but that were commonly asked in other similar interviews. This allows interviewers to instantly have a clear picture of relevant questions they may be missing, which would otherwise be impossible to achieve without laborious tasks like shadowing dozens of interviews. It's a 10x smarter, more sophisticated way to generate relevant questions versus static question scripts.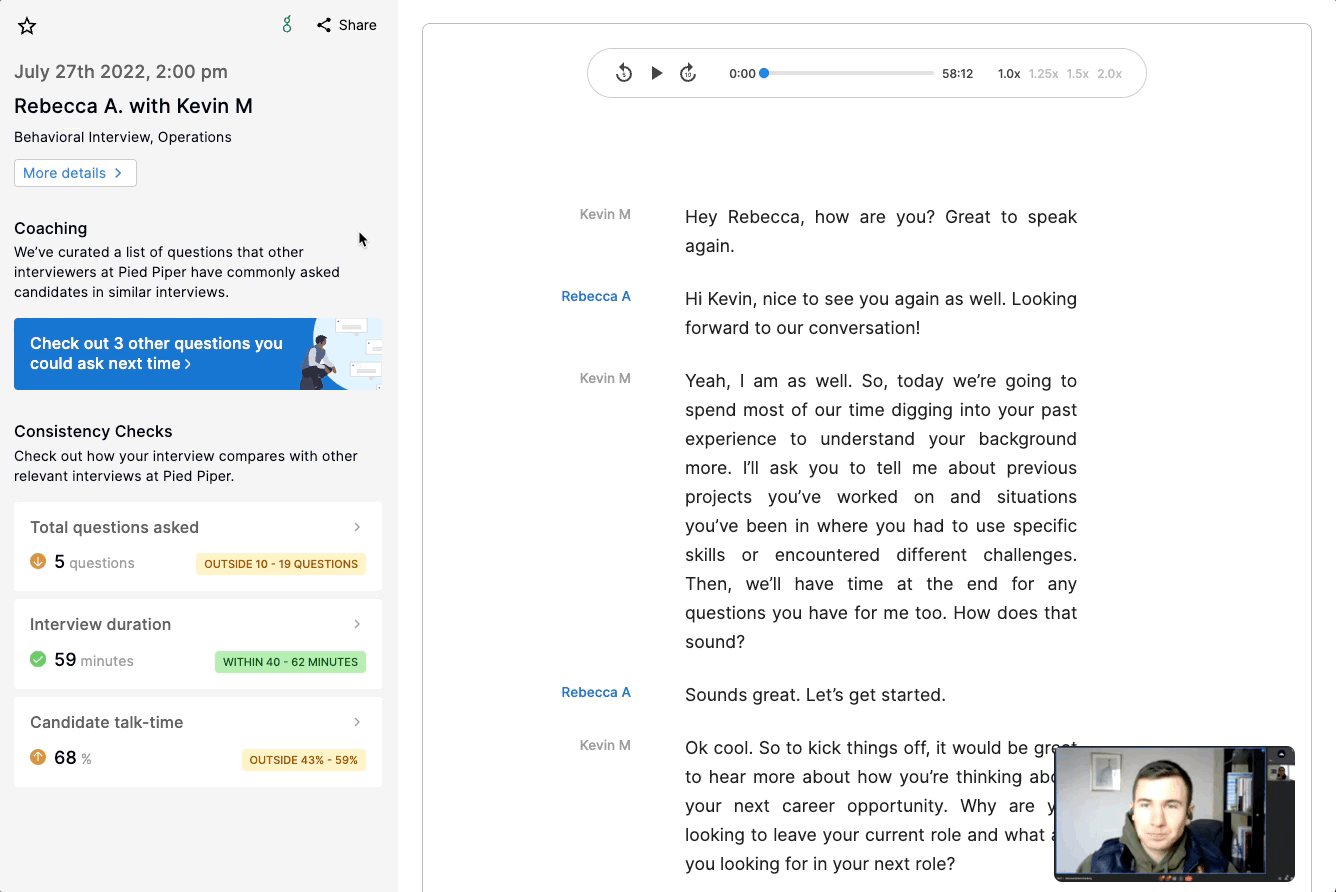 This work has built the foundations of a self-sustaining feedback system that will help organizations achieve more consistent and high-quality interviews, without the need for input outside of interviews that are already happening. These features are just the beginning of our goal to enable ambitious teams to build the best hiring processes in the world, and there's much more to come.
Get our latest updates sent straight to your inbox.
Subscribe to our updates
Stay up to date! Get all of our resources and news delivered straight to your inbox.
Other resources