Product launch 🚀: Introducing AI Notes
Siadhal Magos
1 Feb 2023 • 1 min read
Today, we're excited to announce a total game changer: AI Notes. It's a first-of-its-kind feature that produces automatic, AI-generated interview notes. We use AI to synthesize an interview into bullet point summaries of the candidate's responses to each question, so you don't have to worry about note taking during or after interviews.
Having to focus on note taking prevents interviewers from meaningfully engaging with candidates or asking them intelligent questions based on what's being said. With AI Notes, recruiters and interviewers are free to spend their time and attention on the more human aspects of hiring and gather the signal they need to make better decisions. We're excited to see the incredible impact this is already having on hiring teams who are now leaving manual note taking in the past.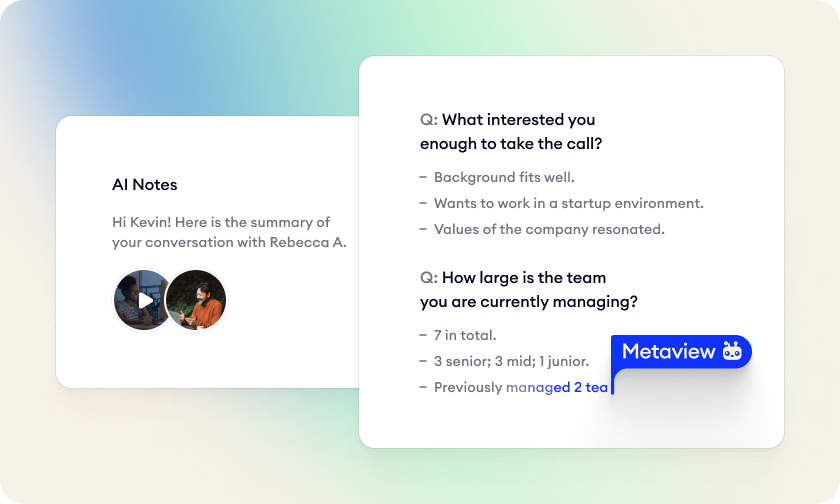 We've been hearing amazing feedback from early users who are saving hours of time and having higher-quality interactions with candidates. James Mantle, VP of Talent at Mews, says, "Right now, it's more important than ever to maximize both the quality and efficiency of the hiring process. Interviews are a crucial part of this, but have always been the least efficient and least reliable step, even for high-performing recruiting teams. With Metaview now providing structured, refined notes on what is actually happening in our interviews, our recruiters and hiring managers can focus on having higher-quality interactions with candidates. It increases the reliability of our process, and makes us more efficient."
This is just the beginning of features we plan to build leveraging the latest advancements in AI. For more on AI Notes, check out www.metaview.ai/notes —we'd love to hear what you think!
Get our latest updates sent straight to your inbox.
Subscribe to our updates
Stay up to date! Get all of our resources and news delivered straight to your inbox.
Other resources